Nowadays, more and more people use led lights for homes, hotels, shopping malls, offices, etc.
LED strip lights and LED rope lights are the two most commonly used lighting materials.
In this article, we will check what is different between them.
1. What is LED strip light and LED rope light?
LED Strip Lights
LED strip light is made by SMD LED, PCB, resistance,3M tape, wires, and sometimes with IC. It comes flat, flexible, long run, 3M tape backside. It is easy for lighting. You can check the photo attached.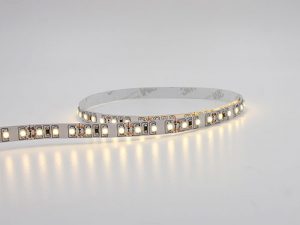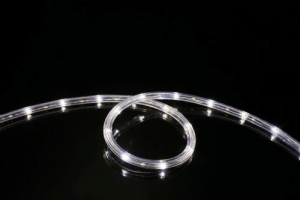 LED Rope Lights
LED rope light is made by SMD LED or DIP LED, wires, and it is made of some plastic material just like PVC material. It comes in a round tube or square shape. The tube material is clear and transparent. This allows the light to come out from the material. Normally this is used for decorations.
2. What are the key differences between LED strip lights and LED rope lights?
They have a lot of differences that we can illustrate in terms of structure, effect, usage scenarios
Both LED lights are using LED as the lighting source.
LED rope lights use SMD LED, DIP LED, and also can use incandescent bulbs as lighting sources.
LED strip light use SMD LED most.They are many kinds of SMD LED can use for LED strip light.SMD3528 , SMD2835, SMD5050 ,SMD2216 ,SMD5630 , SMD3014,etc.
And now LED strip lights have new technology, it can make by COB process. Many COB strip lights are come out in the market.
LED rope lights normally use AC220V, AC110V. It also has DC12V and DC24V, but less selection.
LED strip lights use DC12V, DC24V most. It also has AC220V, AC110V. This is used in different applications.
The rope light is round in shape. Normally, the diameter is between 1-3cm. That can be better protect the led light when using the rope light outdoor.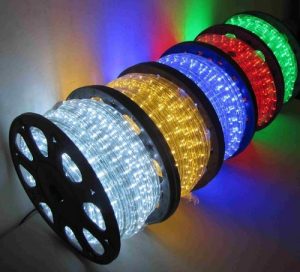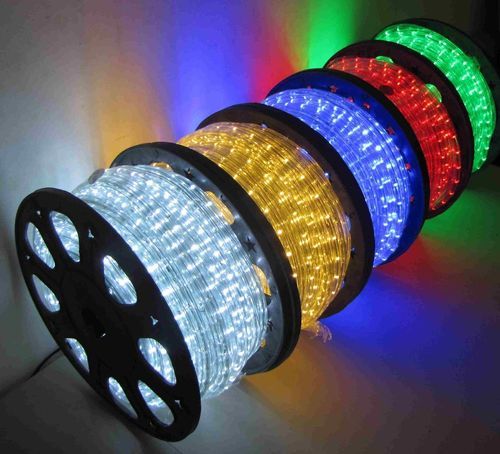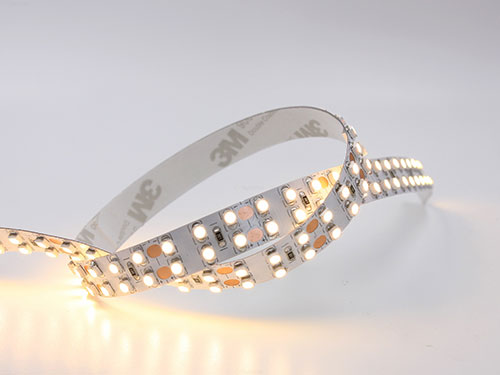 LED strip light size will differ. The most important size is the width of the PCB. LED strip lights have many sizes. The width is from 3mm to 40mm, 50mm. That can fit many different led aluminum profile applications.
Mounting and Installation
LED strip lights have 3M tape on their backside. These 3M adhesives can stick to most surfaces and can fix there for a long time.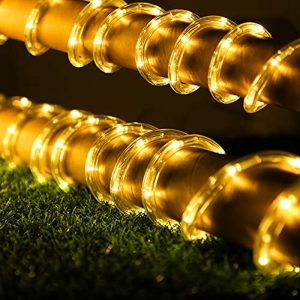 LED rope lights don't have 3M tape backside. They use mounting clips or Nylon ties to fix it on another surface.
For rope light, you can choose the colors like 3000k, 4000k, 5000k, 6000k, white color, red, green, blue, amber, yellow, etc. And can use RGB color change rope light.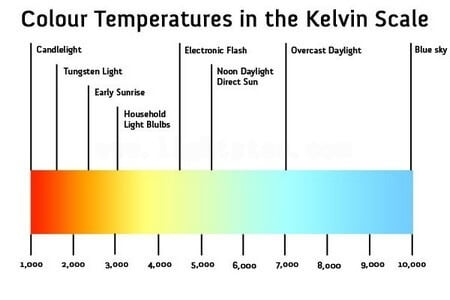 LED strip light can offer more color function than rope light. Not only the color mention above but also have RGBW, RGBCCT, MAGIC COLOR CHANGE, CCT changeable.
For the led rope light is using in decoration most, the price is not high.
LED strip light have more function, this use in different place have a different request.Price from 0.5usd/meter to 10usd/meter.So the price range is huge.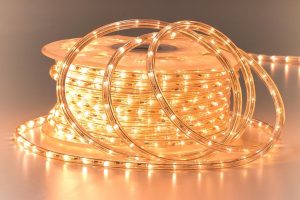 The different led suppliers offer different level quality products. Not matter the led rope light or the led strip light, you need to compare from CRI, brightness, CCT, packing, etc.
Because the shape of the rope light is 360 degrees, the beam angle of the rope light is 360 degrees. That is better for decoration for Christmas lighting.
Most LED strip lights have only a 120-degree beam angle. To create 360-degree lighting with strip lights, you have to install round lighting.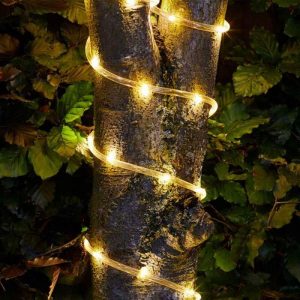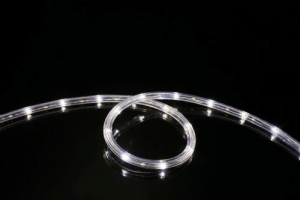 Rope lights LED low lighting, are unreliable for practical applications. They can't serve as a primary light source and can't be used for activities that require sufficient brightness.
Strip lights have different types. We have 30led/m, 60led/m, 120led/m, 240led/m, etc.
The more led quality in PCB, the more brightness it is. Strip lights mounted with 5050 chips will emit brighter lights than ones with 3528. You can also adjust their brightness to fit your needs.
LED IP rating measures its protection against water and objects such as dust and dirt.
Strip lights usually have different IP ratings so you can use them in water-prone areas such as bathrooms, pools, kitchens, and outdoors. There are different ways to waterproof strip lighting. Strip light waterproof levels such as IP20, IP33, IP55, IP65, IP67, IP68.
LED Rope lights have a rating of IP65, which also makes them resistant to water splash. You can also use them both indoors and outdoors.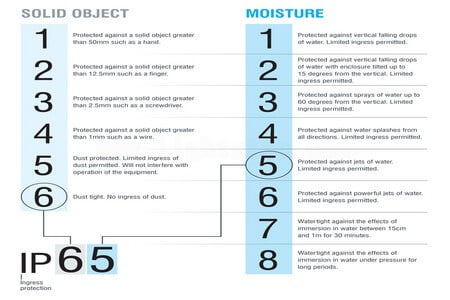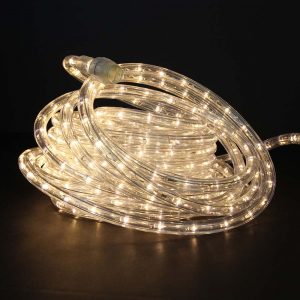 Rope light is made by the extrusion process.PVC is the cheap price material use most for rope light casing.
LED strip lights use many kinds of casing material, such as silicone glue, epoxy glue, PU glue. And it uses different casing production processes. Such as glue drop in the surface, tube waterproof, extrusion process.
Rope lights, because of the big PVC material around, it is don't do well at large bending angles. There is wiring inside, which can be damaged if bending too much.
Strip lights are more flexible, allowing you to bend them over 90 degrees without breaking. You can attach them even at sharp 90 degree turns, such as wall corners. And some of them can use for advertising letters.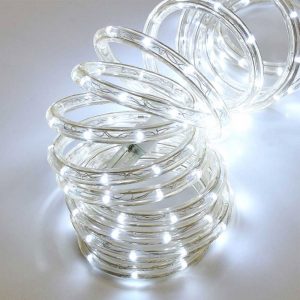 Run Length (Voltage Drop)
When using a DC input, it can only go around 20 meters before needing additional power input. Rope lights can be run as long as over 80 meters when used with an AC input.
Strip lights typically come in 12V or 24V DC inputs. The DC version of strip lights can only be run a certain length before voltage drop occurs. The standard length is 5M/reel for most DC 12V/24V strips.
LED rope lights use about 5 wattages per meter.
LED light strips use 1-30 wattage per meter, Depends on the requirements of your project. 
If LED strip light wattage is less than 20w/m, they don't need heat sinks.
In many lighting projects, led strip light use with an aluminum profile, not matter for protecting the led strip light or for heat dissipate. It has good housing.
If you are using more than 20w/m led strip light, I suggest you have better use heat sinks.
LED rope light is less wattage, this doesn't need heat sinks.
LED has impressively long service lives. LED light can last tens of thousands of hours, far longer than incandescent bulbs. You do not need to worry about the life span of the led lights.
3. Best Places to Use
Both strip light and rope light have countless applications. Choosing between the two depends on the function and where you use it. Here are ideal places where you can install both lightings. 
3.1  Rope Lights
Because the rope light has less power and less brightness, rope lights are mainly used for decorative lighting. You can install them both indoors and outdoors.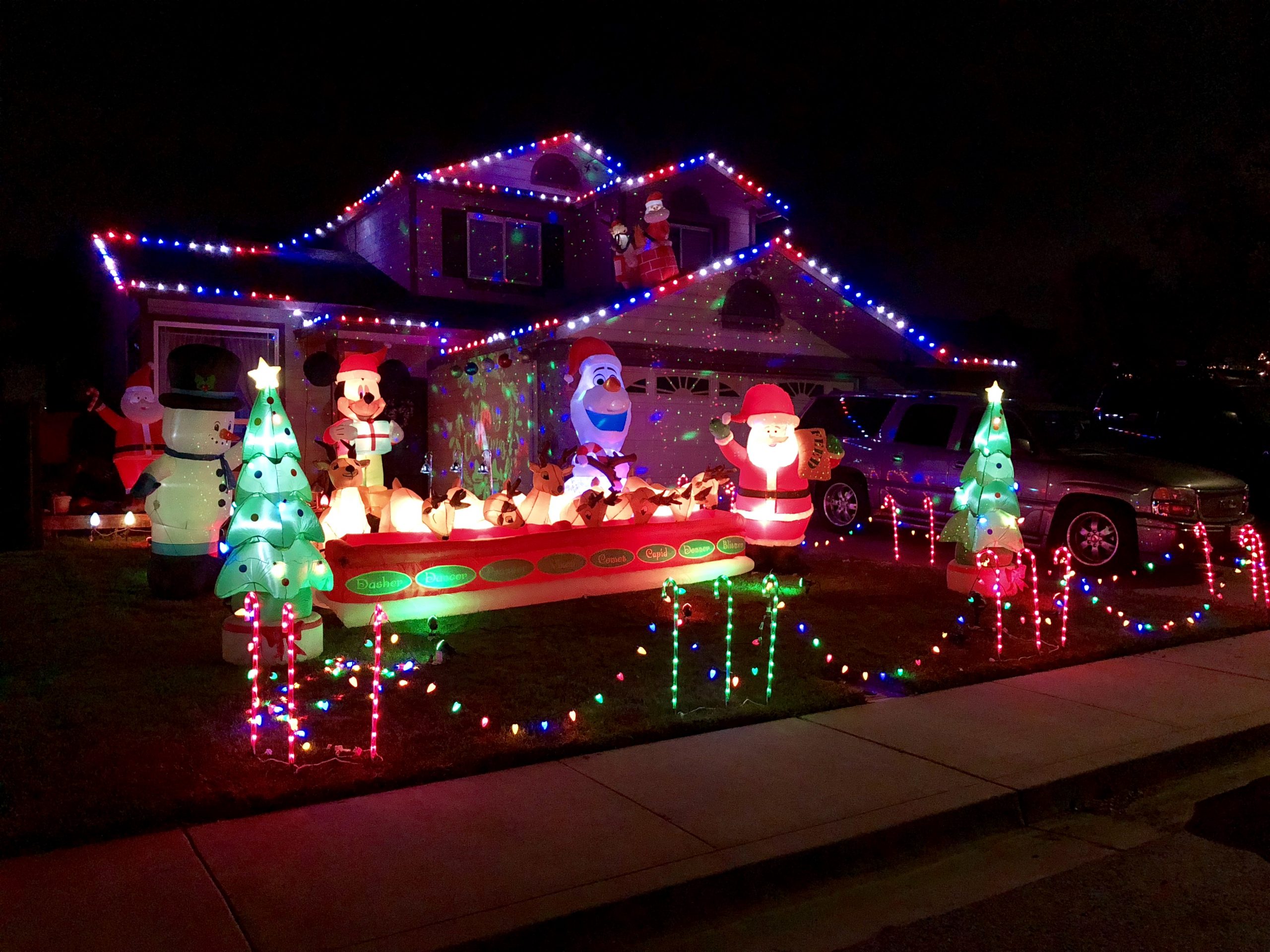 Christmas Decorations
When you are using led rope light to decorating your home, it can enhance your holiday atmosphere. Rope lights can stir up your design, whether decorating your walls and windows or creating that picture-perfect Christmas Tree.
Balconies
Rope lights can make balconies look safer and bright. With their faint glow and color variety, they can set the stage for cozy nights.
Walkways
Light up your walkway with a variety of faint light colors to improve the mood. Whether it's a garden walkway or your front lawn, rope lights always add relaxing tones.
Landscape Accenting
Rope lights can use outdoor. It perfectly highlights your landscaping or garden. They can illuminate landscape details at night, making them appear eye-catching.
Pool Fence Wraparounds
You can use DC24V rope light for pool areas. DC24V rope light is safe and they can make your pool area appear vibrant when you wrap them around on fences.
Wrapping Around Tree Trunks in the Backyard
LED rope lights can also act as wraparound lighting on tree trunks. Backyard trees decorated with rope lights make them more lively and often give off a holiday feel.
3.2 LED Strip Lights
There are many ways that you can get creative ideas with LED strip lights. You can use them either as decorative fixtures and practical lights.
Here are some of the best places where you can install them.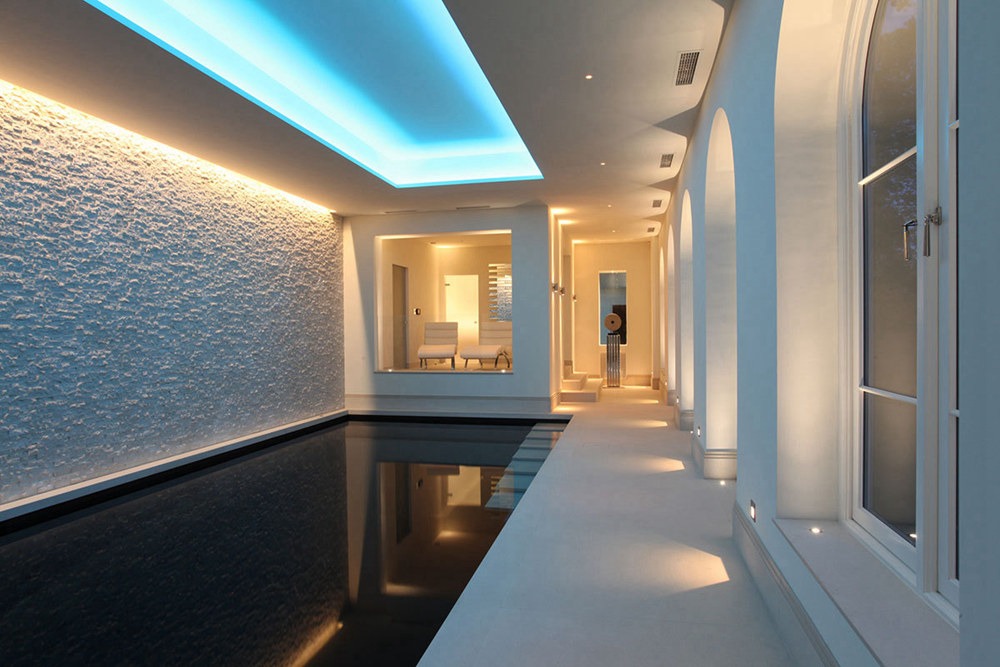 Around Mirrors
LED strip lighting can install around mirrors. This can beautify your mirror's aesthetics. It can even make your face clearer since LED provides illumination similar to natural light.
Accent Lighting for Benches or Shelves
Strip lights are always for indoor furniture accent lighting. Strips can illuminate while enhancing design. You can improve the style of your benches and shelves using this LED light option.
Under Stairs to Create Better Visibility
LED strip lights can install under your stairways. It can increase the stairway's visibility. You can also add them to your stair tread, capstones, and railings.
Inside Display Cases to Accentuate Items Within
LED strip lights can install in the showcase. It can increase their visual appeal. When you are making a display, led strip lights can highlight them better.
General Room Lighting
LED strip lights can install for room lighting. Your choice the brightness and right color temperature strip light in interior design. Your preferences can impact mood, aesthetics, and overall function.
Retail Product Illumination
LED strip lights are installed on many retail store shelves. It can light up their products better.LED strip lights can make your products more visually appealing due to the better glow they emit.
Conclusion
There are some differences between the led strip light and the led rope light. But both led light is used to light up our home better.No matter which led light you choose, Lightstec always offers the best quality and affordable led lights to you.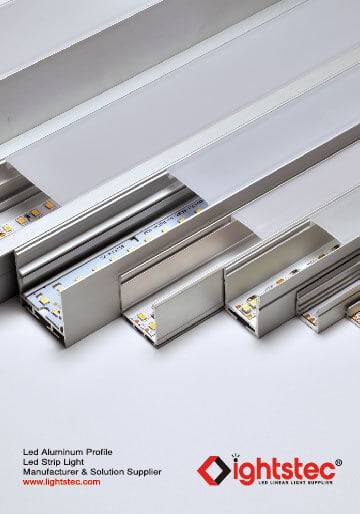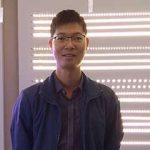 About Author
JerryHu
Founder of Lightstec.Engineering degree.More than 13 years working experience in led lighting business.Familiar with producing led lighting products.This blog share you knowledge and solution in led lighting.Welcome sourcing led lights from China.
Learn More Professional Led Classes Which Less People Tell You Before You Make Mistake.