There is an expansive variety of LED tape lights on the market today, featuring various PCB widths, color temperatures, and IP ratings. Do any compatible connectors exist for them? When you are buying LED connectors from China manufacturers,  Read this article to gain more insight.
LED strip light connectors play a crucial role in ensuring a secure and reliable connection between LED strip lights. When purchasing LED strip light connectors from China, it's essential to understand their purpose, types available, and considerations for the procurement process. In this guide, we will provide you with the necessary information and address frequently asked questions to help you make an informed decision.
Understanding LED Strip Light Connectors:
LED strip light connectors are used to join or extend LED strip lights, allowing for easy installation and customization. They provide electrical connectivity and ensure a continuous flow of power between LED strips, eliminating the need for soldering or complicated wiring.
Types of LED Strip Light Connectors:
Single Color Connectors: Designed for single-color LED strip lights, these connectors provide a secure connection for power supply and extension purposes.
RGB Connectors: These connectors are specifically designed for RGB (Red, Green, Blue) LED strip lights, enabling the connection of multiple color channels and synchronization.
Waterproof Connectors: Ideal for outdoor or damp environments, waterproof connectors provide a tight seal, protecting the LED strip lights from moisture and ensuring longevity.
1. Snap-Down Connectors
These snap-down connectors are extremely helpful and make soldering unnecessary. With various widths and excellent quality available, using them as DIY projects are simple - simply insert led tape under two tabs of two metal connectors before closing up their plastic covers for protection.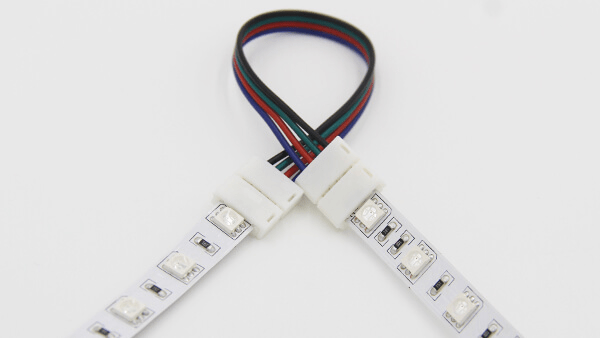 SR series connectors are tailored for LED strips that aren't waterproof, using elastic pins that press against a pad as the LED strip is inserted - meaning no pressing is necessary! With its V-shaped hole at its core and double the contact area of pads compared with other products, these connections reduce spark discharge and resistance for improved stability and security - and can even be enhanced further with metal teeth added onto their cover for extra security.
Connectors offer more convenience and greater versatility compared to 90-degree connectors.
Just for non-waterproof led strips:
Single Color 2-pin PCB 8mm and 10mm Wide with 30-120 LEDs/m
RGB Led Strip 4pin 10mm PCB 30-60leds/meter.
RGBW led strip 12mm PCB with 5 pins, 30-60 LEDs per meter.
2. Hippo Connectors
Hippo Connectors provide an easy, reliable and safe method of joining LED tapes together with other tapes or cables. Simply choose the suitable Hippo connector size, insert your tape, close it off securely, and you have ensured a solid electrical and physical connection ensuring reliable joint.
Hippo connectors can be found for non-waterproof IP20 tape as well as versions that meet water resistance specifications of IP62/IP65/IP67/IP68 tape. They come equipped with 2 pins (for single color strips), 3pins (for dual-color strips), 4pins (for RGB strips) or 5pins (for RGBWWW or RGBWW). Also available as strip-to-strip or wire to strip versions - connecting two LED tapes seamlessly without gaps; with wire to strip version easily attach input or output cables (whether flat, rounded, stranded). Their flexible designs make adding the appropriate cable easy!
Hippo LED tape connections offer many advantages for fast installation and reduced waste of LED tapes, as well as greater flexibility. We provide L-shaped connectors to help form bends and corners more easily; you can even create flat corners using two strip-to-strip connectors to form flat corners.
Please refer to the list below to determine which Hippo LED tape connectors can be used with various LED strips with various IP ratings.
2.1 IP20 Non-Waterproof Strips have two pins with 8mm wide PCBs and 30-240leds/meter of LED lights per strip. They feature single color LED strips.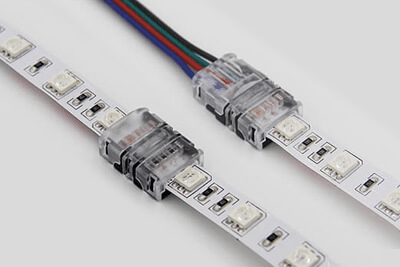 Dual color led strip with 3 pins and 10mm PCB board that contains 30-90 leds/meter.
RGB led strip with four pins and 10mm PCB board featuring 30 90leds/meter.
RGBW led strip, 5pin PCB 12mm wide. 3090leds/m.
2.2 IP62 LED Strips with Silicon Gel Coating: 2-pin, 8mm and 10mm wide PCBs, 30-240leds/m. Single color led strips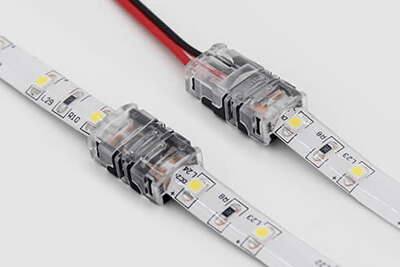 Dual color led strip with three pins, 10mm PCB and 30-90 LEDs/meter.
RGB led strip with four pins, 10mm PCB and 30 90LEDs per meter.
RGBW LED Strip with 5pin PCB 12mm wide strip that features 30-90leds/meter.
2.3 IP65/66 Led Strips with Silicone Sleeves: WT-10mm wide PCB contains 30 to 120 LEDs/meter on an 8mm led strip.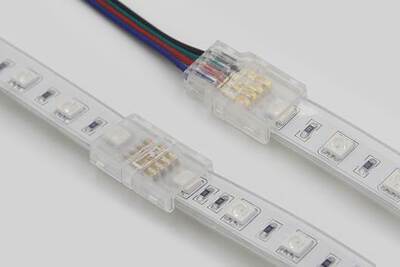 RGB Led Strip with 4 pins, 10mm PCB and 30--60 LEDs per meter
LED Strip IP67/68 with solid tube: 2-pin connectors for 8mm and 10mm wide PCBs and 30-120 leds/m. Single color led strip
Dual color led strip with 3 pins, 10mm PCB and 30-90leds/meter.
RGB led strip with 4 pins and 10mm PCB board; contains 30 90leds per meter.
3. COB LED Strip Connector
This new connector was designed to eliminate dark areas. Furthermore, its smaller dimensions provide flexibility when installing into compact aluminum profiles.
Only for non-waterproof COB lead strips:
Two Pin, 8mm & 10mm Wide PCB
4. Strip to USB Adaptive Connector
The LED Strip to USB adapters are specifically designed to connect tape lights with DC5V USB ports on TVs, chargers, power banks, computers and laptops. There are models suitable for various tape light models.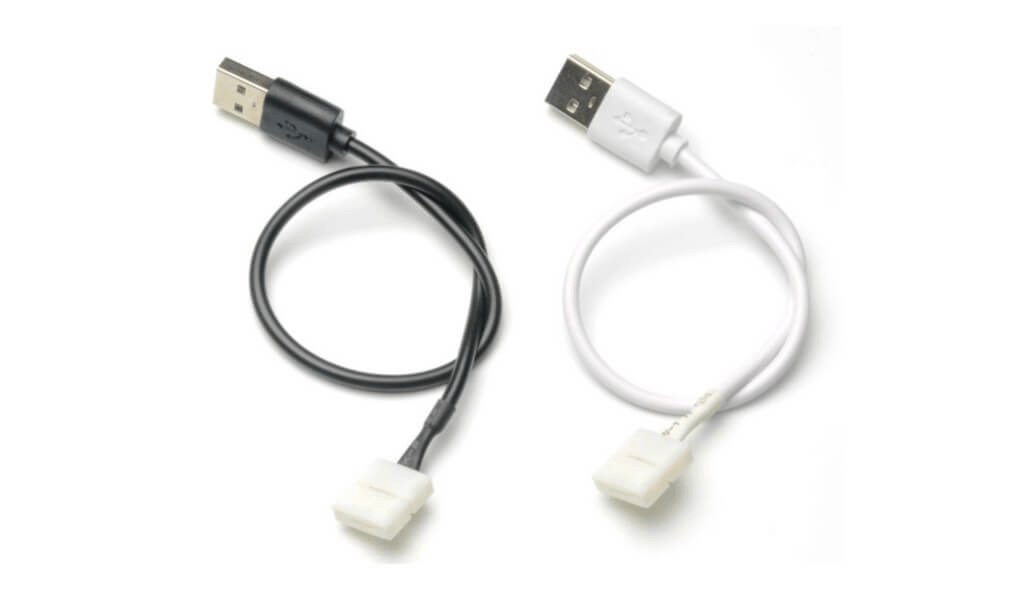 Corner Connectors
An LED Strip Light Corner Connector, also referred to as an LED Strip Shape Connector, is a PCB angle connecter used to join strips at corners. They come in L (90 degree), cross (+) and T shapes; FPC or injection housing may be used. Each shape comes in 8mm, 12mm and 10mm sizes to cover RGB, RGBW/RGBY dual color CCT dual color RGBW/RGBY.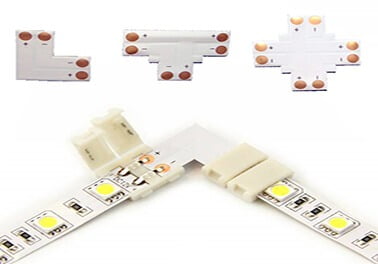 Only for non-waterproof LED strips:
Single Color LED Strip with Two Pins, 8mm and 10mm PCB widths and 30-120 Leds/m.
RGB led strip with four pins and 10mm PCB featuring 30-60 leds/m.
RGBW led strip, 5 pin, 12mm wide PCB board with 30-60 LEDs/m.
Considerations for the Procurement Process:
Quality Assurance: Prioritize suppliers with a reputation for producing high-quality LED strip light connectors. Look for certifications such as CE or RoHS to ensure compliance with international standards.
Compatibility: Ensure that the connectors you purchase are compatible with the specific LED strip lights you are using. Check the specifications provided by the manufacturer to avoid any compatibility issues.
Quantity and Pricing: Determine the quantity of connectors required and negotiate pricing with suppliers based on your order volume. Consider factors such as shipping costs and import duties when comparing prices.
Supplier Verification: Conduct due diligence on potential suppliers by checking their reputation, customer reviews, and requesting samples before making a bulk purchase. This will help ensure reliability and product quality.
Communication and Language: Effective communication is crucial in the procurement process. Ensure that you can effectively communicate with the supplier in English or consider using a translator or sourcing agent if necessary.
Yes, most LED strip light connectors can be reused as long as they are not damaged during disconnection.
It is generally recommended to use connectors from the same manufacturer to ensure compatibility. However, if the specifications match, connectors from different manufacturers can be used together.
Yes, some suppliers offer customizable connectors to accommodate non-standard LED strip light sizes. Consult with the supplier to determine if this option is available.
Yes, it is advisable to request a sample from the supplier to evaluate the quality and compatibility of the connectors before committing to a bulk purchase.
Conclusion:
Purchasing LED strip light connectors from China can offer a cost-effective solution for your lighting projects. By understanding the purpose, types available, and considering the procurement process, you can confidently source connectors that meet your requirements. Remember to prioritize quality, compatibility, and effective communication with suppliers to ensure a successful purchase.Any request need led strip light connectors, pls connect Lightstec.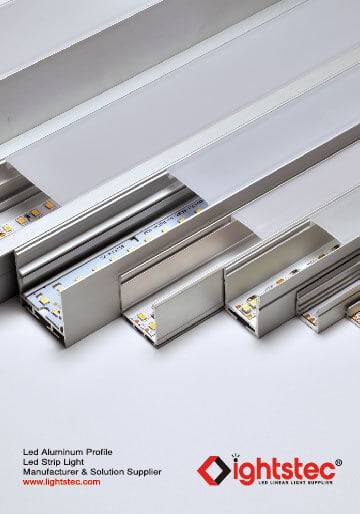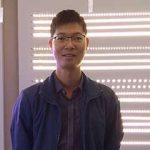 About Author
JerryHu
Founder of Lightstec.Engineering degree.More than 13 years working experience in led lighting business.Familiar with producing led lighting products.This blog share you knowledge and solution in led lighting.Welcome sourcing led lights from China.
Learn More Professional Led Classes Which Less People Tell You Before You Make Mistake.