HKTDC Lighting and Lighting Fair Autumn LIGHTING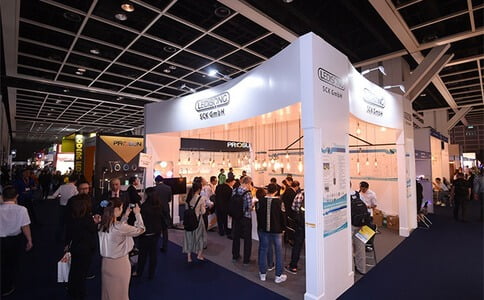 Development time2011.1.27 ~ 2019.10.30[Asian well-known]
Exhibition industry:

illumination

Holding period:

Once a year

Hosting address:

China, Hong Kong and Taiwan

 - 

Hong Kong

 - 

Hong Kong Convention and Exhibition Center Hong Kong Co ...

Opening hours: 

09:00 - 18:00

Organizers:

Hong Kong Trade Development Council, HKTDC

Exhibition area:

70,000 square meters

Number of viewers:

80000 people

Number of exhibitors:

2724 homes
Exhibition introduction
Hong Kong is the highlight of the global lighting industry, and the Autumn Lighting Fair is held here. In 2009, Hong Kong exported a total of 2 billion US dollars of lighting products. Emerging markets such as India, Russia and Venezuela, as well as Southeast Asian countries and regions, are sources of significant growth and potential buyers.
Exhibition organizer:
The HKTDC is the organiser of the Autumn Lighting Fair. It has many years of successful experience in organizing trade fairs and has achieved outstanding results. The office will use a network of offices around the world and a comprehensive database to identify and invite key buyers and purchasing groups in emerging and developed markets to visit the lighting exhibitions in Hong Kong to create business opportunities.
Exhibition features
The focus of this autumn lighting show is light-emitting diode (LED) products. LED lamps are energy-saving and durable, and have a wide range of designs and colors. They are welcomed by the market and the future is bright. More and more buyers are interested in sourcing LED products for indoor and outdoor lighting.
The theme pavilion of the Autumn Lighting Fair will keep an eye on important industry trends and provide buyers with the latest products. In 2011, the conference set up two new exhibition areas. The LED lighting area caters to the market's eager demand for LED applications. The festival lighting area specializes in displaying various decorative lamps. Other exhibit categories include crystal lighting, outdoor lighting, lighting accessories and parts, and table lamps, making it easier for buyers to find the right exhibitors.
Hong Kong International Lighting Fair has always been an ideal platform for the industry to introduce the latest lighting products. Its scale has been continuously expanded and its reputation has increased day by day. It has become the most prestigious professional lighting exhibition in Asia. The 2009 Hong Kong International Lighting Fair held its first autumn exhibition and was held in the same place as Asia's largest electronics exhibition, Hong Kong International Electronics Show and ICT. In 2010, Hong Kong Autumn Lighting Fair had 381 exhibitors, including 81 exhibitors from Hong Kong and 300 exhibitors from outside Hong Kong. The lighting exhibition attracted 22,784 high-quality professional sellers from 128 countries and regions around the world, including Hong Kong. Regional professional buyers loved 9,748, and 13,036 outside Hong Kong. In 2010, the entire lighting exhibition exhibition area was 8917 square meters.
Note: The exhibition is a professional B2B trade show, open only to the industry, non-industry and people under the age of 18 declined to visit. No retail activities are available on site.
Exhibition criteria
Overall home lighting: ceiling lamps, aluminum lamps, lanterns, fabric lamps, bath lamps, crystal lamps, table lamps, wall lamps, craft lamps, children's lamps, chandeliers, LED panel lamps, floor lamps, integrated ceiling lighting, etc. 
Commercial lighting: lamp cups, Emergency light, grid light, LED light strip, LED light, ceiling light, track light, metal halide light, blast light, LED point light source, stage light, spot light, fluorescent light, light string, LED guardrail tube, down light, each 
Outdoor lighting such as landscape lights, landscape lights, garden lights, lawn lights, plant simulation lights, garden lights, street lights, road lights, underwater lights and other 
electrical accessories: all kinds of switches, lighting accessories, light source accessories, bulbs, Wax tail foam, flashlight, wire and cable, lamp holder, energy saving lamp, light bulb, electrical appliance, T4/T5/T8 bracket, hardware accessories, LED accessory tools, socket, plug, etc.
Learn More Professional Led Classes Which Less People Tell You Before You Make Mistake.