Istanbul Illumination Exhibition Electronist ELEX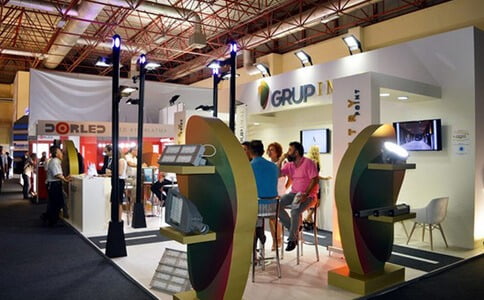 Development time2019.09.18 ~ 2019.09.21
Exhibition industry:

illumination

Holding period:

Once a year

Hosting address:

Turkey - Istanbul - Istanbul Expo Cent
Opening hours: 09:00 - 18:00

Organizers:

Ying Fu Man Exhibition Co., Ltd.

Exhibition area:

50000 square meters

Number of viewers:

21976 people

Number of exhibitors:

586 homes
Exhibition introduction
The Electronist ELEX in Istanbul, Turkey is hosted by the famous Infman International Exhibition Company in Turkey and held in conjunction with the famous LED Lighting Exhibition in Turkey. The exhibition was held in 2012 and is held annually at the DTM World Trade Exhibition Center in Istanbul. It is the most influential component trade fair in Eastern Europe, the Mediterranean region, the Middle East, West Asia and Africa.
Turkey at the junction of Europe and Asia is listed among the top ten emerging market countries in the world, and its economic strength ranks 16th in the world. In 2016, 386 companies from various countries participated in the exhibition, and 21.976 professional buyers visited. In 2017, Electronist is about to usher in the 6th anniversary. Turkey's manufacturing industry has developed rapidly in recent years, and the demand for components, components and spare parts is growing rapidly.
Note: The exhibition is a professional B2B trade show, open only to the industry, non-industry and people under the age of 18 declined to visit. No retail activities are available on site.
Exhibition criteria
Materials and components: diodes, crystals, memories, processors, integrated circuits, PCBs, optoelectronics and display devices, connectors, switches, relays, filters, transformers, inductors, resistors, capacitors, microwave components, piezoelectric components, embedded Systems, Cables, Components and Assist Systems, Semiconductors, Sensors and Microsystems, Industrial Control and Automation, Smart Cards, Microsystems, Test and Measurement Instruments, System Integration and Subsystems, IC Packaging Technology, Electronics Manufacturing Equipment 
Batteries and Related: ED/ EDA and inspection technology, packaging system power supply, battery, display products, magnetic materials, piezoelectric ceramics, power supply, transformer, battery, packaging process, inspection and testing
Learn More Professional Led Classes Which Less People Tell You Before You Make Mistake.